Celebrating 125th Anniversary of Swami
Vivekananda's Visit to Salem
In 1893 an Indian Spiritual Ambassador visited Salem, Massachusetts on his way to the First Parliament of World Religions at the Chicago World's Fair. Swami Vivkeananda travelled from India to share with the west an appreciation of Indian culture and an understanding of Vedanta that sees all religions as paths to the same God. On September 8th of 2018 an Anniversary celebration brought people together to honor this man and the message he brought.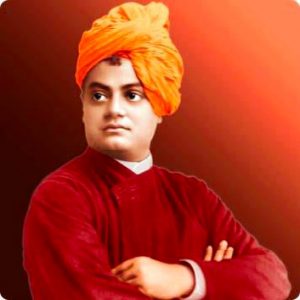 The original spark to hold an anniversary celebration this day occurred several years ago when Jim McAllistar, Salem's local historian, found and shared an old Essex Institute Journal with Richard and Cynthia Griffin. Within the journal was an article documenting Swami Vivekananda's visit to Massachusetts' North Shore region, and Jim shared it with them as he knew of their interest in India. Subsequently a collaboration developed between Richard and Cynthia who promote the exploration of spiritual unity through the non-profit foundation, Beads on One String, and the Ramakrishna Vedanta Society of Boston.
On the day of the celebration, Jim gave a summary introduction of Swamiji's visit touching upon the curious and warm reception he received throughout Boston, Annisquam and Salem. He noted how Swami Vivekananda was welcomed into local churches and met with parishioners, ministers and local children where he shone a light into daily life in India, the like of which had not been glimpsed on Boston's North Shore.
Swami Tyagananda of the Ramakrishna Vedanta Society of Boston, sharing the same spiritual lineage, then shared some of the messages of Swami Vivekananda. His comments, that embodied an inspiring reflection on Vivekananda's life and the significance of his visit to Salem is available to us below:
Summary of Swami Tyagananda's Reflections
Swami Vivekananda was a prophet of outstanding caliber. When he visited any place, he inspired the people that he met. But, as we can see, people who came generations later—such as you and me—also feel the power of his teachings, often in subtle and surprising ways. Which is what makes the celebration of the 125th anniversary of Swamiji's visit to Salem possible.
Any celebration fulfills its promise only when it is accompanied by deep reflection. As we reflect on what Swami Vivekananda's life and message mean to us today, at least three things spring to mind that resonated with me when I began studying him as a teenager, many years ago:
Swamiji encouraged everyone to have an ideal to strive for in life. He used to say: "If a person with an ideal makes a hundred mistakes, one without any ideal will make a thousand." Having an ideal gives a definite direction to life and it then becomes easier to take decisions and make choices.
Swamiji also taught us to think rationally. He said that true religion is always transparent. There is no mystery-mongering in the quest for Truth. He himself accepted only what resonated with his head and heart, and he encouraged everyone to do the same.
Another important teaching of his was regarding strength. "Strength, strength, is what the Upanishads speak to my from every page," he used to say, also adding: "Strength is life, weakness is death." According to him, whatever makes us strong physically, mentally, emotionally, intellectually or spiritually is good for us. Whatever makes us weak should be discarded immediately. Spiritual freedom—even success in secular life—is possible for those who have inner strength, not for those who are cowards.
Let us make an independent study of Swami Vivekananda's books and relate the teachings to our specific life situation. If any of his teachings make sense to us and are found to be relevant, let us embrace them. That will make us better human beings. We will be able to discover deep inner peace, joy and freedom in our hearts—and we can then become instruments to share these precious treasures with our family, friends and
the community.
Salem, September 8, 2018
Following Swami Tyagananda was the performance of "Victory Unto Thee," a song whose lyrics came from the Gospel of Ramakrishna – the teachings of Vivekananda's Spiritual Master. This was performed by Bill Cliff, a consummate professional musician from Albany, New York, and a long time follower of Meher Baba. After Bill, two members of the Ramakrishna Vedanta Society presented readings of Vivekananda's poetry and a brief commentary on the significance of Swami Vivekananda in their lives today – Charles Miller of the Vedanta Society read from Vivekananda's book of poetry, "Searching for God", and Tom Yaroschuk spoke of his journey from Catholicism to Vedanta, and voiced the idea that "There is error and correction – ultimately we are innately pure, free, powerful, and loving and need only let our divinity come through".
Naosherwan Nalavala, the publisher of Glow Magazine, a journal that had been started by Naosherwan and devoted to Meher Baba for the past 52 years, presented a few thoughts on the importance that Meher Baba placed on Vivekandanda's life and message. He recounted a passage that Meher Baba had one of his close followers read to the others with him from Vivekananda's writings:
"The only true teacher is one who can convert himself, as it were, into a thousand persons at a moment's notice. The only true teacher is he who can immediately come down to the level of the student – transfer his soul to the student's soul, see through the student's eyes, hear through the student's ears, and understand through his mind."
The finale of the event was a sitar with tabla and tamboura performance with Michael Siegell. Michael studied under Bhaskar Chandavarkar of Pune and is a trained classical sitarist in two traditions, the Maihar tradition of which Ravi Shankar is the most famous exponent, and Peter Row's Vishnupur instrumental tradition of Bengal . The selection was a traditional raga named Jhinjoti that Michael described as an early evening Raga associated with romance, playfulness, and longing.
The day ended with conviviality and refreshments in the warm late summer afternoon. A happy atmosphere of a shared spiritual experience pervaded the gathered people who came from diverse backgrounds to celebrate this great sage's presence in Salem, Massachusetts 125 years ago, and his perennial message.